The STORM team will be at the 38th Euroheat & Power Congress, taking place from 14-17 May in Glasgow.
On 15 and 16 May, we will welcome you at exhibition stand #232 in the DHC+ Pavilion,which also hosts other innovative projects and DHC companies. Come and learn first-hand from our experts! We are happy to answer any questions and discuss about the latest developments and achievements of the STORM controller.
On Monday, 15 May, at 14:35 we will show a live demonstration of the STORM controller at our exhibition stand #232. Join us!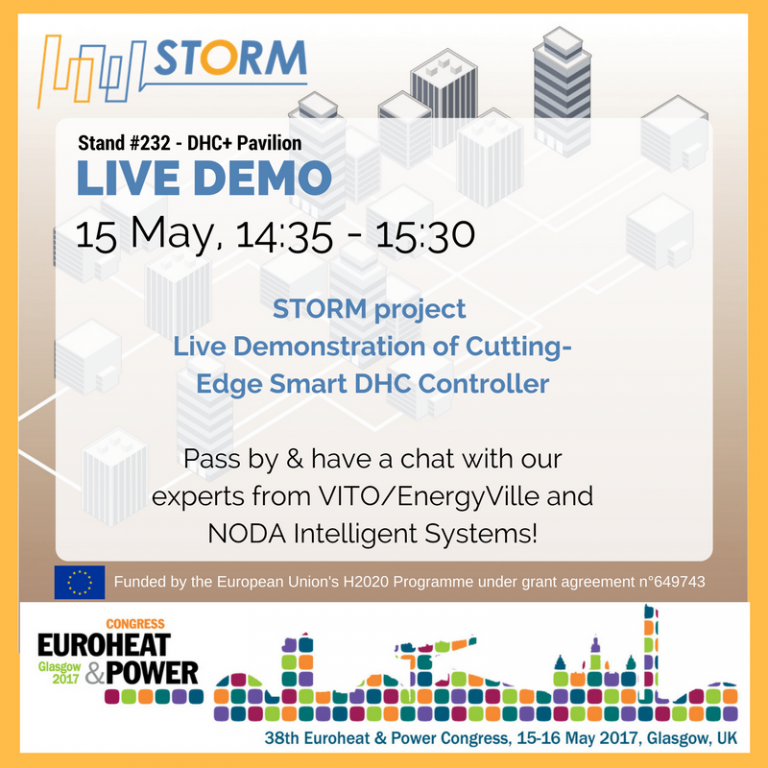 The STORM project will contribute to the Euroheat & Power Congress with two speakers in two sessions:
Christian Johansson from STORM project partner NODA Intelligent Systems is speaker at the panel discussion 'Technology and Projects: Digitalisation – Buzzword or Transformative Force?' on Tuesday, 16 May at 9:00-10:30.
Herman Eijdems from Mijnwater will present the Heerlen demo site of the STORM project: 'Black to green: using coal mines for renewable DHC' during the session 'Technology and Projects: Making the EU work for Us' on Tuesday, 16 May at 13:30-15:00.
About the Euroheat & Power Congress
Our future depends on the choices we make today! Heating and Cooling are together the largest single source of energy demand in Europe, and this demand is currently met largely by fossil fuels.
Choosing District Energy means saying NO to spending on imported fossil fuels, and YES to investing in efficiency infrastructure and renewable energy at the heart of our communities. Policy-makers at EU, national and local level are beginning to embrace this reality, with encouraging consequences for network operators, cities and citizens!
This congress and exhibition will offer active participation by providing an excellent programme with speakers from different levels of governance and stakeholders. It provides a platform to discuss major issues of importance for European and Global District Energy sectors across a range of technical and commercial issues; from resource assessment and innovative technological design, to market and policy developments.
For more information and to register for the Congress, please visit the event website.